Finally, Worthington Area YMCA is beginning to open its arms to the summer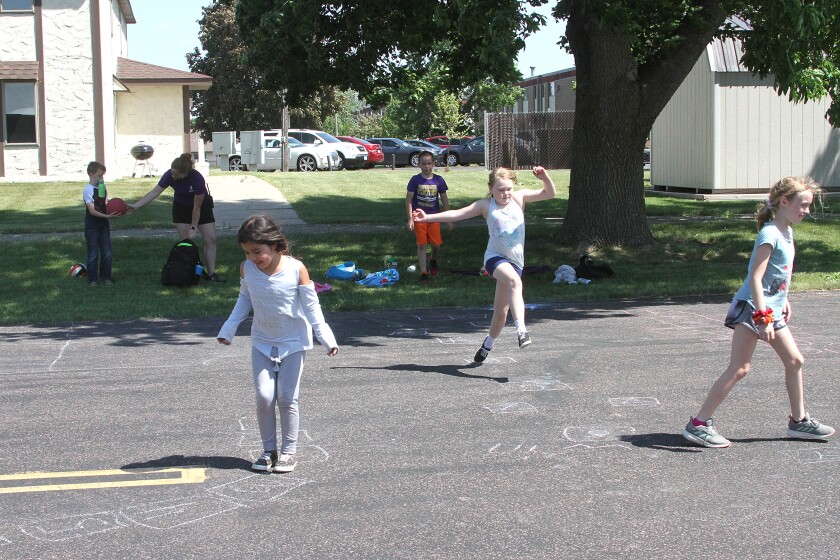 WORTHINGTON -- Day camp at the Worthington Area YMCA has been going on for a week now, and judging by the campers' smiles on Monday, it's going well.
Indoors, a group of campers showed off their coloring skills, and one of the boys laughed when he "attacked" a visitor with a picture of a teddy bear. It didn't look like a dangerous teddy bear, but it was scary cute.
Outdoors, another group withstood the hot Monday weather by drawing a hopscotch path on the pavement. The kids were about finished with their hopping when somebody came up to them and said he wanted to take their picture. Excitedly, they hopped some more for the camera.
Today, June 10, the YMCA can officially open to much more fun.
Preparations have been ongoing. This is typically the time of year when youth programs are up and hopping, but in the spring and summer of COVID-19 they're just about to get started. T-ball, softball, track and field, Pee Wee ball and tennis have yet to get under way, but Y staffers are beginning to see the light at the end of a long tunnel.
For one popular tradition, however, the light has gone out -- at least for 2020.
"We probably won't be doing our All-Comers Track Meet this year, just due to the numbers we usually get for that," said Y program director Cory Greenway. "We get hundreds of people, between kids and parents, out there (at Trojan Field), and we partner with the Optimists. So that's a large program they miss out sponsoring, as well."
Due to coronavirus-related regulations limiting the number of bodies taking up a limited space, other activities that will go forward will need to be adjusted. Baseball programs will be split up due to state restraints on sharing equipment.
Worthington usually has between six to eight teams in T-ball and Pee Wee leagues. This year, the equipment -- bats, balls, helmets and tees -- will need to be sanitized and disinfected after every practice.
By splitting up the practices, more kids will be able to take part in the programs.
Greenway said he assumes the summer programs will be full again this summer.
Minnesota authorities say up to 25 kids can be outdoors at one time, which allows the YMCA to expand the track and field to twice that many with two sessions scheduled.
As for the YMCA itself, the hours will be modified. Hours will be from 5:30 a.m. to 7:30 p.m. with a closing from 1:30 to 2:30 p.m. for cleaning and disinfecting.
Free weight equipment has been moved to the north gym and spaced properly so that it can be safely used. The fitness center is now a cardio center.
The walking track has been closed to accommodate the exercise equipment.
One unfortunate casualty to coronavirus is basketball. According to the state, basketball is too much of a high-risk activity to allow it to take place. And every time a YMCA gym is used (the south gym is open to day campers and group exercise classes), it will be wiped down regularly.
There will also be no rock climbing or pickleball in the near future. When pickleball does return, it will come back sooner than basketball because it requires no contact.
Have basketball players complained?
"They will be. We're expecting that," said Greenway.
But the Y must open in phases, he said. As restrictions fall by the wayside, more activities -- like basketball -- will return.
Not surprisingly, the lengthy coronavirus restrictions that caused the YMCA to shut its doors has had an unfortunate effect. Some members canceled their memberships. Much time was spent by staff trimming programs due to funding issues. The Y still has expenses regardless of the shutdown, and no full-time staff was furloughed.
So instead of dealing with programs and interacting with YMCA members, Greenway and his co-workers have spent extra time cleaning the building, putting up signs, disinfecting areas that they hadn't used to have been concerned about, and stockpiling cleaning agents.
When people do return to the Y in good numbers, the program director said, he suspects they'll spend a lot of time just talking to each other.
It'll be time, not for just working out, but to bulk up on news.