Hayenga chooses West, will play for aunt Rosalie with Lady Jays
Minnesota West has landed Worthington High School basketball star Olivia Hayenga, who signed to play for the local two-year school and her aunt, Rosalie Hayenga-Hostikka, at a signing ceremony Friday.
We are part of The Trust Project.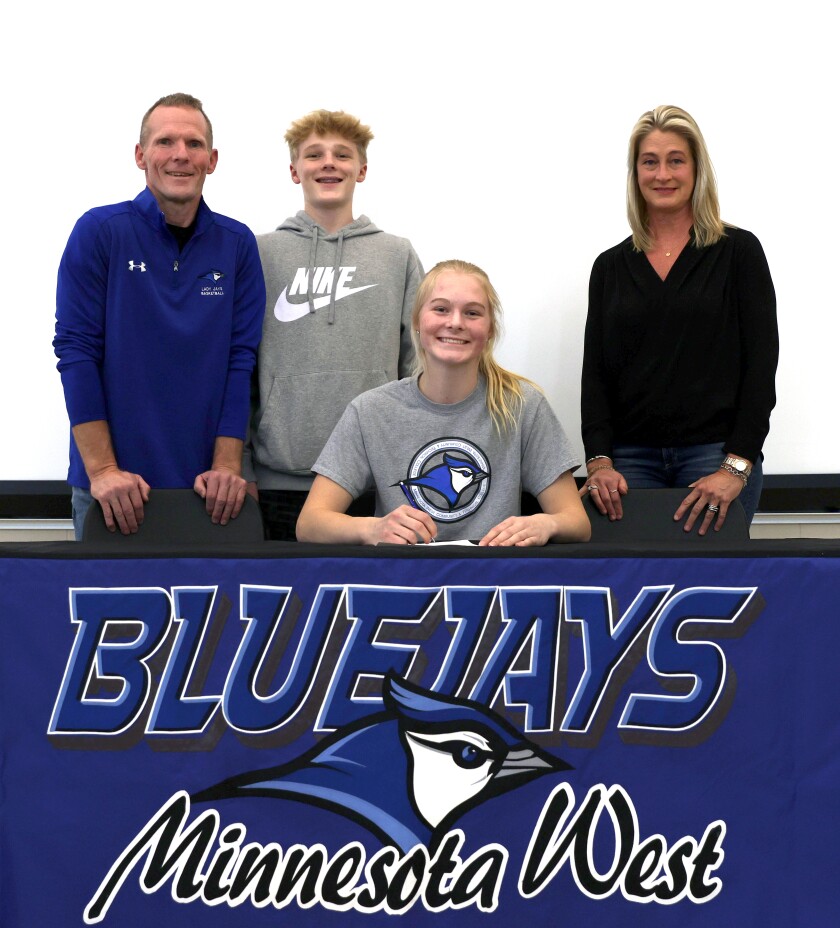 WORTHINGTON -- Minnesota West women's basketball coach Rosalie Hayenga-Hostikka introduced her niece Olivia Hayenga to a large crowd Friday afternoon at the Worthington High School band room. And she felt no need to try to hide her true feelings.
Presenting the WHS senior for her college basketball signing ceremony, "Moz" briefly bracketed Olivia's outstanding high school career, adding that it's always a special moment for the coach when good athletes choose to play for the Lady Jays.
"But I'll be honest with you. Today's probably just a little more special," the veteran West coach said. "(Olivia) has done a lot of things. And I think she's just going to get better and better. I think what's really special for me, I get to spend two more years with her as a person and as an aunt."
Hayenga, who joined the 1,000-point career scoring club this season, could have easily chosen a different school. Her pure athleticism, her outstanding shooting ability, and her excellent ball skills represent a fine fit for many four-year schools throughout the region.
And Olivia played it straight; she went on some tours. But she ultimately chose West.
"Just always in the back of my mind, I knew I was going to come here, no matter what I was offered. It's just something I've always wanted to do," said the Trojan senior.
Obviously, playing for her aunt is an important factor in the final decision.
"She's a big part of why I wanted to go there. She's one of the best coaches ever. And I really just wanted to be coached by her," Olivia said.
Hayenga-Hostikka enjoyed a remarkable playing career, herself, at Worthington High School, since bursting onto the scene as an eighth-grader. She, too, chose the local college to begin the next step in her career and starred, earning a Women's Basketball Coaches Association National Player of the Year Award in 1992.
Olivia, anxious to continue improving her skills at the collegiate level, believes her aunt is the perfect person to take over the reins.
For her part, Rosalie hopes to work on Olivia's outside shooting and her discipline. The Trojan is an outstanding transition player and gets to the basket in a hurry. But she has taken a lot of risks on high school courts especially on defense, Moz recalled on Friday, that won't always be rewarded against college opponents.
"She had a lot of options. As a basketball coach, for her to choose to come here, she's going to be a great asset to our program. She knew this option was always there. Deep down, I would've been proud of her no matter what she did," said Rosalie.
Just so there would be no misunderstanding, however, at the signing ceremony Hayenga-Hostikka pronounced herself "thrilled."
Both Rosalie and Olivia said that before the final decision was made, family members enjoyed teasing Moz about Olivia's other opportunities besides Minnesota West. Rosalie is a very family-oriented person, and there are many family members that crowd into the WHS gym and the Minnesota West gym regularly to follow the local teams' progress.
Olivia, too, says family is very important to her, and she testified on Friday, "I will love to have that little fan club that sits up there in the corner for me."