In battle for clean water, carp win first round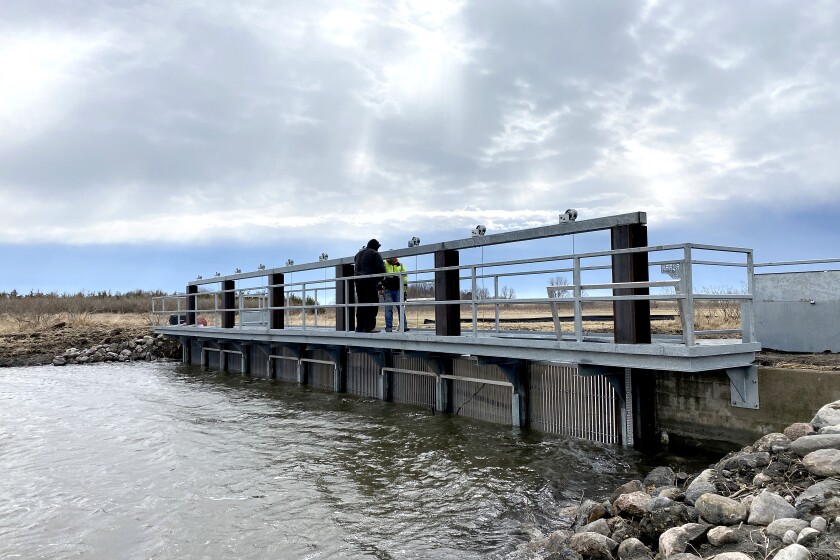 WORTHINGTON — If it was a competition between the Okabena-Ocheda Watershed District and the carp populations of Lake Okabena and Lake Ocheda, the score is Carp: 2, OOWD: 0.
But it isn't a match-up — and there's always next winter.
The watershed district worked on two projects over the winter specifically aimed at reducing carp populations in the local lakes. The first, a wintertime drawdown of Lake Ocheda that hoped to freeze out fish populations, wasn't successful because streams, tile and groundwater flowed into the lake all winter, keeping the water under the ice well-oxygenated.
Okabena-Ocheda Watershed District Administrator Dan Livdahl wrote this week in a letter to landowners that it appears nearly all of the game fish and carp survived the attempted drawdown on the three-basin lake.
Because the lake's management plan requires the lake be restored to its established water levels following ice-out, the stop logs were installed on the Lake Ocheda dam April 1. By that afternoon, the lake had risen to its full service level, and rose another four inches since then, Livdahl shared in the letter.
If conditions are favorable to attempt another temporary drawdown next winter, Livdahl said the stop logs could be removed again after Aug. 1. Landowners will be notified if this is to happen.
The second project that didn't go as hoped was the carp tracking program on Lake Okabena. The goal was to monitor carp movement and conduct a winter-time seining project on the lake to remove high populations of the roughfish.
While carp tracking seemed to work well, the carp didn't school up this winter as hoped. That, along with poor ice conditions later in the season, eliminated the opportunity for seining.
During a meeting with watershed board members Tuesday afternoon via virtual meeting site, Zoom, Livdahl said he's confident nine of the carp fitted with tracking devices last spring are still alive. Of those, eight had moved into Sunset Bay within a week of ice-out.
"I'm continuing to collect information, and Wenck is looking at the possibility of doing some trapping," Livdahl reported.
In addition to the nine carp that received surgically implanted tracking devices, nearly another 200 carp captured last fall were fitted with RFID tags. Livdahl said he wants to get a better population estimate this year. A carp removal event may not happen this year, he added.
In other business, the board:
Received an update on the $294,000 wellhead protection grant awarded by Minnesota's Board of Water and Soil Resources to Nobles County Pheasants Forever to purchase 56.68 acres in the city's wellhead protection area in Bigelow Township from landowner Jesse Drost. The OOWD is serving as the pass-through agency for the funds. Pheasants Forever was initially slated to close on the purchase this month, but that has now been moved to June.
Approved erosion control permits and authorized the administrator to sign them for the city of Worthington during construction of new shelters in Slater Park and Centennial Park, as well as new restrooms at Buss Field; for District 518 during construction of a new field house at Trojan Field; and for Dan Krueger during installation of stormwater pipe between the home and pond on his property.