Lady Jays split doubleheader with RCTC, mashed eight home runs
The Yellowjackets won game one 16-11, but the Lady Jays continued to swing the bat hard in game two for an 11-6 victory.
WORTHINGTON — The Minnesota West Lady Jays split their doubleheader with Rochester Community and Technical College on Tuesday afternoon.
The Yellowjackets won game one 16-11, but the Lady Jays continued to swing the bat hard in game two for an 11-6 victory. The Lady Jays tallied eight home runs across both games.
The Lady Jays host a doubleheader on Friday against Minnesota State Community and Technical College-Fergus Falls.
RCTC 16, Minnesota West 11
An error to get the third out in the top of the second inning stung Minnesota West. The Lady Jays allowed seven runs, all of which came with two outs.
Julia Schmoker pitched for the Lady Jays but she raked from the batter's box with two home runs. Schmoker had three hits, three runs and five RBIs. Torrence Clelland had three hits, three runs and two RBIs. Clelland hit a home run, as did shortstop Emily Dunlop. Dunlop had three RBIs.
Schmoker was tagged for 17 hits and 11 earned runs. She struck out eight.
Despite trailing in the bottom of the seventh by nine runs. The Lady Jays did not give up and put together a series of five straight hits which scored four runs. The ability to keep battling impressed coach Keith Swenson.
"They scored tons of hits and a bunch of runs but we kept fighting back," said Swenson. "We just kept swinging the bat and hitting the balls and that carried over into the second game."
RCTC 270 130 3 – 16 18 3
Minnesota West 200 320 4 – 11 11 4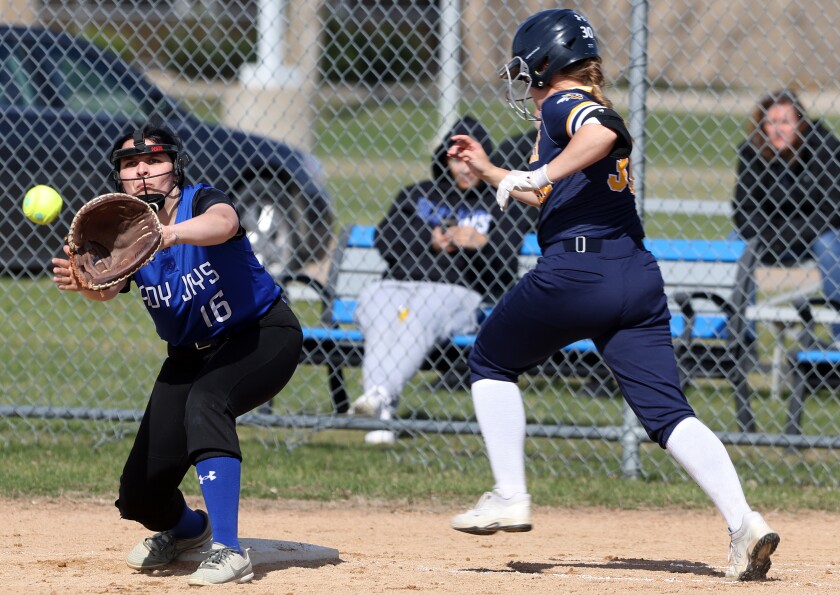 Minnesota West 11, RCTC 6
The late game surge from game one carried over into game two for the Lady Jays. The Lady Jays scored 11 runs on 12 hits, with four big-time home runs. Dunlop had an incredible game with two stellar shots that landed out of the park, and top flight defense in her shortstop position.
The Lady Jays started the top of the first inning with two quick errors and a home run given up. But the pitching from Taylor Ponto quickly settled down after the first six outs and she created lots of soft contact and ground balls to neutralize a strong wind that favored the batter.
The Lady Jays took their first lead in the bottom of the fifth, with a three-run home run blast from Dunlop. Dunlop and Schmoker scored four runs each. Schmoker and Makenzie Allen hit home runs.
Not only did the Lady Jays bring great offense, they also played lights out defensively for much of the game.
"Taylor pitched a great game — she made several outs herself on defense. Emily Dunlop made some great catches at shortstop and Haillie (Morin) made some great plays at second getting girls out," said Swenson. "Kiarra Danielson made a lot of catches out there at centerfield. I thought Torrence had some great plays out there at third — throwing it to first to get the out."
Swenson, a very positive coach who can be heard all around the field yelling out encouragement for his players, was upbeat on the tenacity his team displayed from the end of game and into game two.
"I am so proud of them for just continuing to never quit — to finish the game and keep fighting," said Swenson. "It was just a good day for us. … We had good defense there"
Not only is Swenson a positive coach, the Lady Jays team is full of high-character players. Each home run was celebrated at home plate. Hits drew celebration in the dugout, and cheers were abundant.
"That is what we are trying to build here — a team, togetherness," said Swenson. "Have each other's backs and the more we are playing, I feel like, the more we are closer as a team. Today it really showed."
RCTC 230 010 0 – 6 12 3
Minnesota West 023 033 X – 11 12 3
Minnesota West 14, Minnesota Post Grad 0
WORTHINGTON — Minnesota West men's baseball team played Minnesota Post Grad in a doubleheader on Monday.
Emmot Nathan pitched the first four innings for the Bluejays. He allowed one hit, five walks and struck out five.
Ian Scherbring pitched the final inning in relief. He struck out two.
Axell Espino had two hits, two runs and two RBIs for Minnesota West. Espino hit a triple. Fernando Marte had two hits and two RBIs. Mikey Garcia had three RBIs. Andy Wurster had three RBIs.
The Bluejays scored 14 runs on 11 hits and four walks. Minnesota West scored 10 runs in the first.
Minnesota Post Grad 000 00 – 0 1 0
Minnesota West 10 2 1 1 X – 14 11 5
Minnesota Post Grad 11, Minnesota West 4
WORTHINGTON — Minnesota West dropped game two against Minnesota Post Grad. The Bluejays tossed three pitchers who combined for 10 hits allowed and nine earned runs.
The Bluejays had four runs on seven hits. Marte and Jacob Peterson had two hits apiece. Peterson hit two doubles.
Jose Navarro took two walks. Espino scored two runs.
Minnesota Post Grad earned 14 walks in the batter's box.
Minnesota Post Grad 040 304 0 – 11 10 0
Minnesota West 000 000 0 – 0 7 3