No. 1 Rochester tops No. 3 Lady Jays in front of packed gym
A showdown between two of the top-ranked Division III women's basketball teams went the way of No. 1 Wednesday night
WORTHINGTON -- An unsettled first quarter proved too much for the Minnesota West Lady Jays women's basketball team to overcome Wednesday night in a tournament atmosphere at the Center for Health and Wellness in Worthington.
In a matchup between the top-ranked two-year Division III team in the nation and its third-ranked Southern Division rival, the No. 1 Rochester Yellowjackets prevailed 87-79.
True to their form, however, the Lady Jays were tenacious in the second half and cut a 22-point Rochester lead to four points with 1:09 remaining in the third quarter. The West gym, filled with rooters, saw two outstanding teams go tooth and nail.
Rochester moved to 15-0 with the win. Minnesota West dropped to 20-2.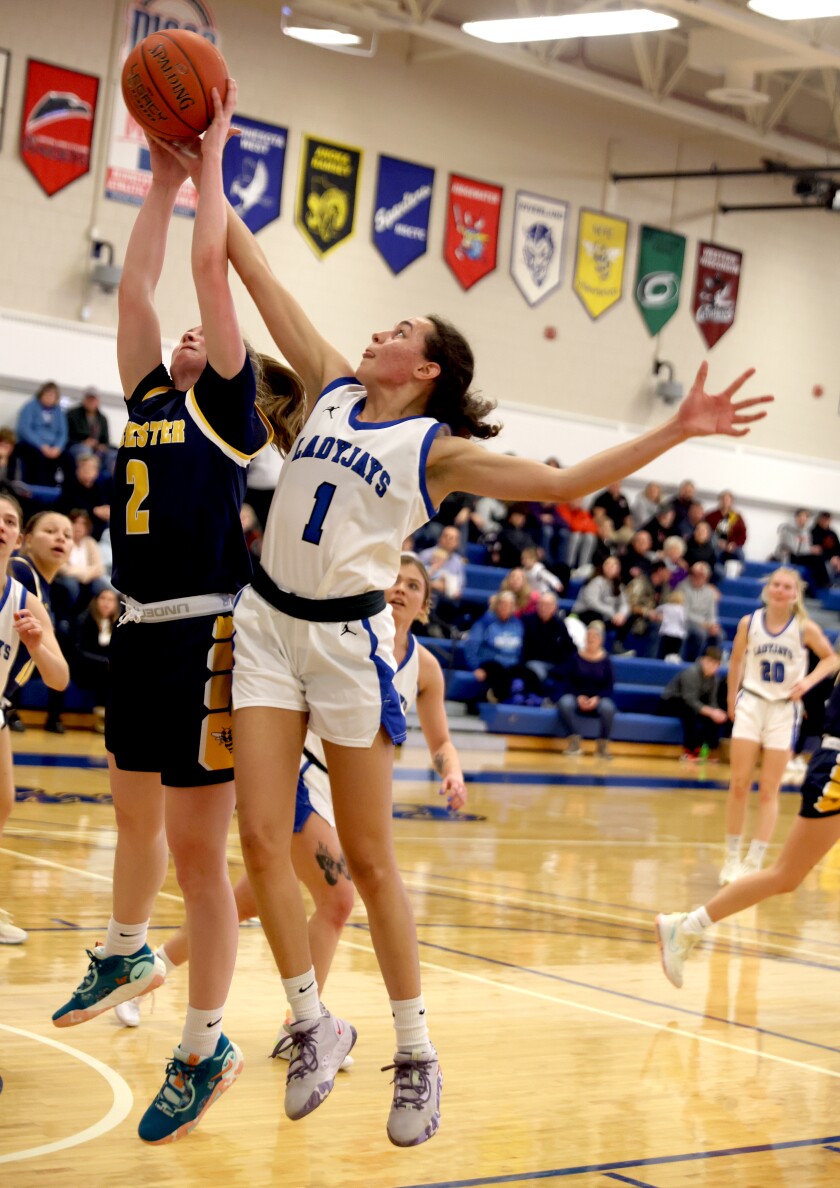 "We were very tentative (early). I don't know why," said West head coach Rosalie Hayenga-Hostikka after the contest. "We just turned the ball over. We were tentative on our passes, we made too many turnovers. We were always on our heels."
Down by double digits in the first break and 24-16 at the buzzer, the Lady Jays trailed 47-31 at the half. They needed an immediate spurt to begin the third quarter, but missed layups, touchy fouls, and failure to rebound led to the Jackets scoring the first six points out of the break. Just when it seemed that all might be lost, however, the Jays went on a 15-point tear, highlighted by 3-point shots by Tia Murray and Hattie DeVries, that cut the margin to 53-46 with 3:10 to go. An Audrey Drapeau 3 made it 58-54 with 1:09 remaining before the start of the fourth.
Madisyn Huisman, a sophomore forward from Worthington, made some big buckets early in the fourth quarter to keep West close. But the Yellowjackets aren't No. 1 for nothing, and they maintained their lead.
Huisman led Minnesota West with 19 points, getting 12 of them in the second half. Several of her shots came in traffic, which is typical. She also led the team with eight rebounds.
"I thought we were all tentative (early)," Huisman said. "We had a big crowd tonight, and that was exciting, but made us nervous. … We gotta play hard right away. We can't be down by 14. We gotta keep pace the whole game."
The Lady Jays' high-scoring freshman, Olivia Hayenga, was cold in the first quarter and waited until the second stanza to score all of her 10 first-half points. She finished with 13. Murray and Dannyn Peterson also scored 13 points in the game.
Myia Ruzek, the leading scorer in the Southern Division averaging 23.6 points per game, finished with 21 to lead Rochester.
The old Globe sports writer, columnist and lover of Worthington is finally becoming a civilian.
Murray County Central's Bryce Hoekman doesn't like tater tots, but he likes what his Rebels are up to on the basketball court
In the third meeting Tuesday between the Eagles and the Trojans this year, the Eagles withstood a strong defensive effort and defeated host Worthington
Rochester finished with a 46-39 rebounding edge over West, with 17 turnovers to West's 19. The Jays had 15 of their turnovers in the first half.
The Jackets also hit 46 percent of their field goals to West's 43 percent.
The loss was disappointing to the Lady Jays, but both Hayenga-Hostikka and Huisman saw many positive things to carry into the future.
"We haven't quit all year. At halftime I said, 'We haven't quit all year, and we're not going to do it now. If we play like we did in the second half, we're going to win a lot more games," said the coach.
Huisman shrugged when it was pointed out that she seems to have a natural knack for scoring second-chance baskets, one way or another.
"I'm always in the right place at the right time, that's what Moz (Coach Hayenga-Hostikka) and my family always says," she smiled.
And she agreed that the No. 3 team in the nation, in the end, comported itself well.
"We're going to definitely take a lot of what we did tonight and go forward," she promised.
Rochester 24 47 60 87
Lady Jays 16 31 54 79
ROCHESTER (3FG-2FG-FT-TP) -- Ruzek 3-6-0-21, Miles 0-6-1-13, Christanson 1-5-7-20, Sikkink 0-2-2-6, James 0-5-2-12, Andring 0-1-0-2, Broadwater 0-0-1-1, Bennet 1-0-0-3, Hugeback 1-2-0-7, Jones 0-1-0-2. Totals 6-28-13-87.
LADY JAYS (3FG-2FG-FT-TP) -- Murray 1-3-4-13, Peterson 0-6-1-13, Scheitel-Taylor 0-2-0-4, Huisman 1-6-4-19, Hayenga 2-2-3-13, Drapeau 3-0-0-9, DeVries 1-1-0-5, Potter 1-0-0-3. Totals 9-20-12-79.