Sunnies in the south: Governor's Fishing Opener highlights angling opportunities in Mankato area
There is great fishing available everywhere in Minnesota, not just on the big waters of the north country, was the message when Mankato hosted the sport's annual season-opening celebration.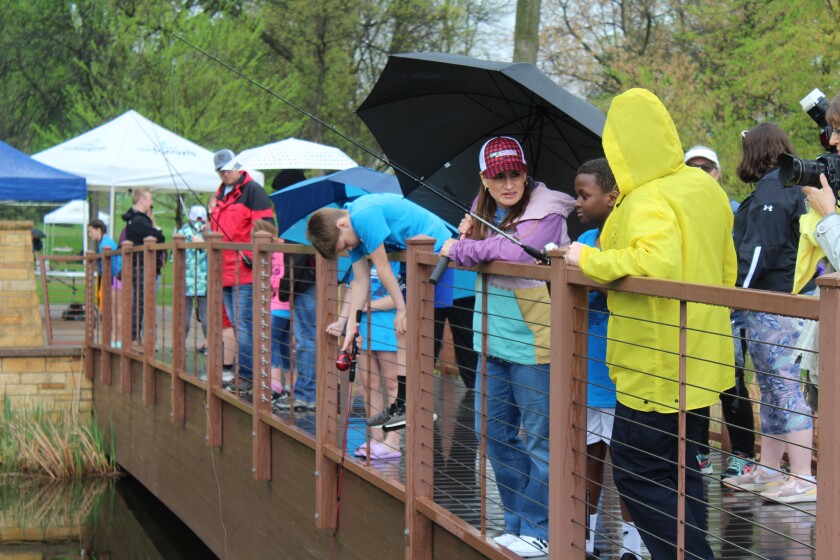 MADISON LAKE, Minn. — Minnesota's 10,000-plus lakes are situated from Iowa to Ontario, with 83 of the state's 87 counties containing at least one navigable body of water. And yet, the idea of a Minnesota lake outing naturally brings to mind pine trees surrounding a secluded body of water somewhere near Brainerd or further north. In the minds of most folks when they think of fishing, they think Ely before Elysian, Winnibigosh before Waseca, and Mille Lacs before Mankato.
The organizers of the 2023 Minnesota Governor's Fishing Opener weekend seem to generally be accepting of that inherent geographic bias. But in welcoming anglers to the greater Mankato area for this annual celebration of angling in this state so known for its pursuit of muskies, walleyes and sunnies, the advocates for this region of south-central Minnesota were quick to point out that fishing is as much a part of the fabric of life south of the Twin Cities as it is north of Highway 2.
"I've been one of 'those guys.' My family had a resort on Mille Lacs so you get the big water into your head," said Al Dorn, the mayor of Madison Lake, which is where many of the on-water events happened over the weekend of May 11-13. "But our DNR has done such a nice job with our southern Minnesota lakes. We're coming off the lake at 8 a.m. with our walleye limit and we're sending pictures to our buddies up north who are still struggling to get on the big water some mornings."
The locals pointed out that between Mankato and I-35, some 30 miles to the east, sits a chain of lakes known for panfish naturally, and stocked with Minnesota's most popular eaters which attracts anglers from the region as well as from the Twin Cities to the north and Iowa to the south.
"People know us, and our presidential lakes — Madison, Washington and Jefferson — get fished pretty good," Dorn said. "But we're also the front end when you go to the east of us to Tetonka and Frances and Elysian, going over all the way to I-35. Each one has a different fishery on it and we've got some great, great fishing."
Minnesota Gov. Tim Walz, who is from Mankato, was out of the state attending his daughter's college graduation in Montana and did not attend. In his stead, Lt. Gov. Peggy Flanagan covered most of the official and ceremonial duties, alongside personnel from the Minnesota Department of Natural Resources and Explore Minnesota Tourism. Events included tours of nearby attractions and vital parts of the fishing industry that supports so many jobs in the state.
The state fish hatchery in Waterville was a popular tour, and higher-ups from St. Peter-based AlumaCraft took a few dozen visitors on an insiders' look at their plant, showing how — in the span of just a few days — a roll of raw aluminum becomes one of the thousands of boats you see on Minnesota waters.
Perhaps it is the influence of a governor from southern Minnesota in office, but some state officials noted a particular attention being paid to the parts of the state south of the Twin Cities when it comes to recreation and events like this one.
"A few years ago we had the (fishing) opener celebration in Albert Lea, and southern Minnesota has always had good fishing, it just wasn't thought of that way. That's changing now, even for walleye," said Brad Parsons, the DNR's fisheries chief. "We've got a genetic strain of walleye that we've discovered does really, really well down here and fish in general grow faster down here in warmer water where it's more productive. But that comes with some challenges as well."
One of the recent challenges came from a lack of those warmer waters, as drought conditions in 2022 and earlier dropped lake levels and generally negatively affected the health of area lakes and the fish populations. With abundant snow last winter and 2023 spring rains, lake levels are healthy again. According to Parsons, when you head into the winter with low water levels, and then get an abundance of ice and snow like we saw in the winter of 2022-23, it can lead to winter kill and a die-off of some fish.
"But winter kill is not always the worst thing for lakes, especially down here," he said. "Fish grow fast and if you can get rid of some of the nasty stuff like common carp, we can have a really booming fishery."
In addition to those who pull up with the tricked-out bass boats featuring more electronics than the space shuttle, the event is aimed at spreading the message that fishing is for and accessible to everyone. They stress the availability of public fishing piers on thousands of lakes around the state where people can try this most Minnesotan of sports with the most basic equipment. Jeff Lederman is the DNR's head of fishing and wildlife education, and noted that his daughters learned to fish on a wooden pier at Silver Lake in North St. Paul, using little more than a pole, a hook and a worm. Part of the Mankato event was getting kids out to try fishing for the first time on public access points in the region.
"We're fortunate to have such great diversity of fisheries, and southern Minnesota is often overlooked," Lederman said. "There are a lot of great fishing opportunities right around Mankato, so to be able to feature these areas is good for the community and good for the state."
Fishing is an important element of the tourism industry, officials stressed, and making sure people know that the sport is accessible to all in every part of the state where there is water can only benefit Minnesota in the long run.
"It's really just an opportunity for people to learn more about all of the various fishing opportunities in the state," said Lauren Bennett McGinty, executive director of Explore Minnesota Tourism. "You don't have to be a professional, you don't even have to have a boat. You can fish anywhere and it doesn't have to cost a lot of money, which is great."
Alas, folks heading out to the water on the Saturday morning of the fishing opener met with an opponent that remains undefeated — Minnesota's spring weather. A lightning storm with hard rain hit Madison Lake at 7 a.m. that Saturday, delaying several of the planned excursions for a few hours. Flanagan and DNR commissioner Sarah Strommen donned rain gear and headed out under the canopy of a comfortable pontoon to try their luck. Anglers who got out on the water when the rain subsided reported some nice bass and even a few walleyes on the hook.
If the mission of the greater Mankato area folks was to prove once again that the fishing doesn't disappear when you get south of about St. Cloud, they got it in the net and on the stringer without incident.