Steady Windom rocks Trojan baseball team, 13-1
Using solid fundamentals, the Windom Area Eagles defeated Worthington 13-1 in a six-inning high school baseball game Friday.
WORTHINGTON -- Windom Area head baseball coach Alex Fink called Friday's 13-1 high school baseball victory perhaps his team's best performance of the season, and it came at the expense of the Worthington Trojans.
At Worthington's middle school field, the Eagles steadily increased their lead and ended it on a spectacular play at first base.
The Eagles, in fact, made three spectacular plays in an errorless effort. In the first inning, center-fielder Tucker Renquist left his feet to catch the third out. In the third inning, right-fielder Cody Hockel pulled off another great diving catch for the third Trojan out. And with one out and a runner on first base in the sixth and final inning, Windom Area first baseman Henry Erickson made a leaping catch of a sizzling line drive off the bat of Worthington's Coy Turner. He then calmly stepped on first base to double up the runner and end the game.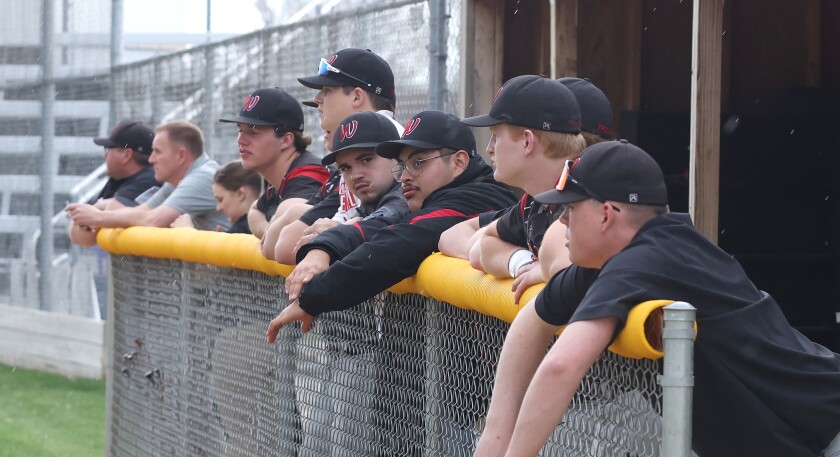 The Eagles showed themselves to be a fundamentally sound outfit on Friday. They stole six bases in the first three innings, they collected 13 hits with smart at bats on offense, pitched well, and on defense made every play.
The victory moved them to 11-3 on the season while they dropped Worthington to 3-11.
"We try (to play fundamentals)," said Fink. "Our whole thing is to pitch and play defense. We thought we did a pretty good job."
Starting pitcher Chayton Struck had his control through his five innings of work. He allowed four hits and one run. Grant Dronen pitched the last inning.
"We played really well today," said Fink, whose squad has taken the field five times over the last six days. "That was one of our best games of the year. We got some big games coming up, and that was a good time to have a good game."
Tucker Brandner pitched a solid five innings for Worthington, getting the Eagles 1-2-3 in the first inning. But Windom Area scored two runs in the second, then added two more in the third after a lead-off double by Drew Rothenberger in the far corner in left field. Josh Garrison doubled him home, and Garrison scored on an Erickson ground out.
Lead-off singles by Braydon Kreofsky and Erickson set the table in the fifth, and then Brady Espenson and Wyatt Haugen drove them home with hits.
Seven Windom Area runs in the top of the sixth inning more than doubled the visitors' lead. A Rothenberger two-bagger and a two-run single by Espenson were the big hits. Two more runs scored on one wild pitch.
The Trojans had four errors in the game.
Worthington's only run came in the second inning after a lead-off double by Triston Sauerbrei. Mason Schutz followed with a run-scoring single.
Andrew Benson and Mathias Noble also pitched for the Trojans, who had their Wednesday home contest with Albert Lea interrupted by a storm.
Windom Area 022 027 -- 13-13-0
Worthington 010 000 -- 1-4-4