The Drill: For Kie Anderson, it's a 'treat' to be a Huskie
An outstanding wrestler, Kie Anderson is a key member of an outstanding Jackson County Central team
We are part of The Trust Project.
JACKSON -- It's pretty cool, Kie Anderson says, to be associated with the 2021-22 Jackson County Central wrestling team.
There are various advantages to being on a team this good. When you're as good as the JCC Huskies are, you have dedicated coaches who push you to be the best -- and you want to be the best, if only because you've got a chance to take home the big state tournament hardware. You also tend to practice against outstanding teammates who, like the coaches, push you to be your best. You see all the trophies and newspaper write-ups from previous great JCC teams crammed on shelves and plastered on doors leading into the practice room, and it makes you want to write the next chapter.
JCC is the second-ranked team in Minnesota Class A, according to The Guillotine. The top team, Belgrade-Brooten-Elrosa, had better beware because the Huskies have eight -- count 'em, eight -- wrestlers ranked in the top 10 of their weight classes.
One of them is senior Kie Anderson, who is No. 2 at 120 pounds. Kie (rhymes with fly) placed third at 113 pounds last year, and he's setting his sights on a championship this time.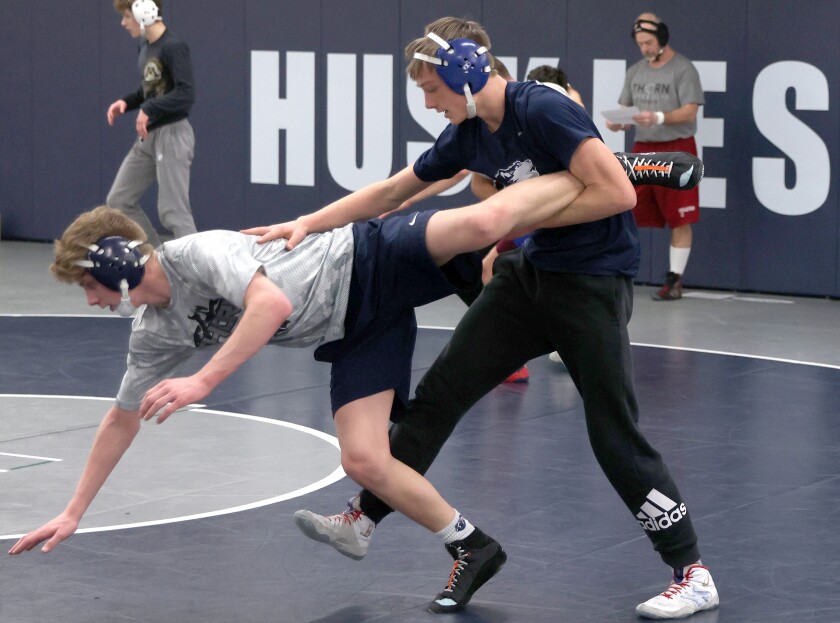 Throughout the school year, Kie is a busy guy. Besides wrestling, he competes in cross country and track and field. He's also involved in band and FFA. In band, he plays the trumpet. He does pep band and jazz band. He's a very good student, good enough to have been nominated for the JCC male Triple-A Award, which honors excellence in academics, athletics and the arts. He plans to do some college wrestling at Concordia-Moorhead.
Call him Kie or call him Nathaniel, which is his given first name. He always goes by Kie, however, which is his middle name.
Kie is this week's Globe Drill subject. The Globe sports department caught up with him recently during an after-school practice, and in talking to him we heard that he appreciates the benefits of being a Huskie, which he called "a pleasure and a treat."
Said Kie: "I really enjoy being with all those guys. I've been wrestling with 'em since I was little. And I can't really go wrong with any of my practice partners because I know all of them will push me, help me get better."
You can see a video of Kie Anderson online at www.dglobe.com . Here's a sample of the interview:
QUESTION: Do you like your chances at state this year?
ANSWER: "I'm pretty happy with being ranked No. 2 at 120. Right now I plan to win the state tournament at 120 pounds. I'm gonna work a lot, maybe harder than I ever have. I'm going to have to have more experience underneath my belt and really try to add some more moves, such as getting shots to the left side."
QUESTION: Proud to be a Huskie, huh?
ANSWER: "Right now we're considered one of the best teams in the state. I think we are the best. It's been a long time coming. Ever since we were in third-fourth grade, we've been wrestling in youth tournaments, going to all of those. And there's been a lot of offseason work as well."
QUESTION: What do you like to do when you're not competing in sports?
ANSWER: "Outside of sports, I like FFA and agricultural things in general. I show pigs, which I have since second or third grade. I've also been involved with Knowledge Bowl and other academic opportunities like that. I like to go fishing, hunting -- I guess a little bit of everything."