From Cameroon to the Vikings, it's been an 'incredible' journey for William Kwenkeu
Kwenkeu came to the United States from Cameroon in 2012 with little football knowledge
When William Kwenkeu came to the United States in 2012 at age 15 from his native Cameroon, he spoke little English and knew next to nothing about football. The following year, he put on football pads for the first time.
At a junior varsity practice at Maurice J. McDonough High School in Pomfret, Maryland, he was inserted at running back. The rules of the game were still fuzzy to Kwenkeu, but he was very athletic. When he was handed the ball, he took off.
"It was like in 'Forrest Gump,' " Kwenkeu said. "My first play, I literally ran through the end zone. And I just kept running and running and running and finally I hit the baseball field and stopped. Then I turned around and everybody was happy. I was like, 'What is happening?' "
Kwenkeu grew up playing soccer in Cameroon, a West African nation, and that was his primary sport when he enrolled as a freshman at McDonough in 2012. But after his first run to the end zone (and through it), Kwenkeu figured football just might be his calling.
Kwenkeu, who turns 26 on Sunday, is now a rookie linebacker for the Vikings. And just as he bucked the odds by coming out of nowhere to eventually earn a football scholarship to Temple, he has made surprising advances in the NFL.
The 6-foot-1, 235-pound Kwenkeu was undrafted last spring out of college and attended the Vikings rookie minicamp as a tryout player. He showed enough last May to be signed but was waived at the end of the preseason.
Kwenkeu then joined Minnesota's practice squad. He was elevated for games against New England on Nov. 24 and the New York Jets on Dec. 4, and then was signed to the 53-man roster on Dec. 14. The speedy Kwenkeu has remained a fixture on special teams for the Vikings, and did get in for his first career snap from scrimmage on the final play of last Sunday's 41-17 loss at Green Bay.
"It's an amazing story," Vikings linebacker Eric Kendricks said. "It's what football is all about. Maybe he was at a disadvantage, but he's found a way to make it work. And he's plenty good enough to be on our roster."
Kwenkeu said he feels "honored and blessed" to be in the NFL and that, yes, it has been an "incredible" journey. His mother, Martine Etammane, said she is "happy and grateful for the opportunity the Vikings gave to my son to fulfill his dream."
Kwenkeu was born in Cameroon in 1997, the son of Etammane and Francois Kwenkeu, who was a high-ranking officer in the national army. The two were never married, and Kwenkeu's mother named her son after Bill Clinton, who was then U.S. president.
Kwenkeu's father died in 2009, and Etammane sought to look for a better opportunity for the family the next year. She moved to Maryland, outside of Washington D.C., to live with relatives. She supported herself doing African hair braiding and then, after studying, got a job as a certified nursing assistant.
"It was the American dream," Kwenkeu said. "She was trying to change our lives for the better. Then two years after she went over, she was able to get immigration papers and I was able to come over."
Kwenkeu lived with relatives in Cameroon in the two years he was separated from his mother. He said he had learned to speak "like broken English" but knew only a few phrases when he came to the United States.
"About the only thing I knew was to say, 'Good morning,' 'How are you?' and 'Thank you,' " said Kwenkeu, who spoke French in Cameroon. "I taught myself how to speak English just by reading a lot of books and watching TV with subtitles. I had a hard time pronouncing some words sometimes but I eventually was able to pick it up. It was mostly self-taught."
After playing soccer and running track as a freshman at McDonough High, Kwenkeu was convinced by some friends to come out for football as a sophomore in 2013. He soon fell in love with the game, and was named junior varsity MVP while playing running back and linebacker.
The following year, Kwenkeu transferred to the newly opened St. Charles High School in Waldorf, Md., where he lived with his mother. It was there that then-Spartans head coach Avery Williams saw him play for the first time at a workout before the 2014 season.
"We were having tryouts and he showed up, and I recall it just like it was yesterday," said Williams, who is now defensive coordinator at Bowie (Md.) State University. "We were running a pursuit drill in which you had one kid running down the sideline and a kid on the opposite side has to come across the field and catch him. When it was William's turn, my first thought was, 'This kid is moving.' He was flying really fast and he caught the kid and that began everything for him as a player at St. Charles High School."
Kwenkeu, who ran the 40-yard dash in 4.44 seconds in high school, impressed Williams with his athleticism. He also sought to learn as much as he could about football.
"He really didn't know anything about the game at first, but the one thing about William is he seeks information, and he has an outstanding ability to retain it," Williams said. "He was behind with his football IQ and was doing everything in his power to kind of bridge that gap."
Kwenkeu continued to get better throughout his junior year of 2014 and when he was a senior in 2015 emerged as a good college prospect. Williams said Kwenkeu "did everything for us" on the field. In addition to piling up 1,145 yards and 16 touchdowns at running back and leading the team with 101 tackles at linebacker in 2015, Kwenkeu was the team's punter and kicker.
"He's my mentor," Kwenkeu said of Williams. "He kind of took me under his wing and helped me by getting me to go to camps to compete and try to get a scholarship."
Kwenkeu, who is very close to his mother, wanted very much to get a college scholarship to alleviate any financial burden on her. And he saw football as a better path to get one than in soccer or track.
In addition to Temple, schools that recruited Kwenkeu included James Madison, Albany, Lafayette, New Hampshire and Rhode Island. He chose the Owls, then coached by Matt Ruhle, who is now Nebraska's coach.
Kwenkeu played six seasons at linebacker for Temple, which included a redshirt year and an extra year from the NCAA due to the coronavirus pandemic. He played his final three seasons with Rod Casey as head coach, first becoming a regular starter during the pandemic-shortened season of 2020 and then really breaking loose in his final season of 2021.
"He really blossomed," said Casey, now a quality control assistant at Indiana. "Our facility had been totally shut down during COVID and he really didn't have the resources to do a lot of training. But when we got back into the facility in January 2021, he really began to train. He got in the best shape of his life. That year (of 2021), I thought he could get (an NFL) job. He was a physical, downhill guy who could run sideline to sideline."
Kwenkeu had 51 tackles last season for the Owls, including 11 for loss, and three sacks. His film caught the attention of the Vikings, who were looking for prospects to bring to their rookie minicamp under first-year general manager Kwesi Adofo-Mensah and first-year head coach Kevin O'Connell.
"An incredible story," Vikings special-teams coordinator Matt Daniels said. "He was a tryout guy for us when he came in in the spring. I loved the way he moved. We kind of got together. Kwesi was like, 'Who do you like?' A couple of guys stood out to us right there and we collectively decided that this was a guy that we could see being a part of the team."
On Nov. 24, Kwenkeu was elevated to face the Patriots in a nationally televised game on Thanksgiving night, and O'Connell said his teammates were "excited" when they heard the news. Kwenkeu became the ninth Cameroon native to appear in an NFL game, and in the third quarter of the 33-26 win, he had a key block on Kene Nwangwu's 97-yard kickoff return for a touchdown.
After the game, Kwenkeu reached out to his mother and some other relatives who were watching the game in Maryland.
"They were very proud," Kwenkeu said. "It makes me very happy just to see the joy on my mom's face. She left me a little note here."
Kwenkeu then pointed to the note tacked onto his locker at the TCO Performance Center. She wrote, "I'm grateful and thankful for God for his promises and God bless the Vikings."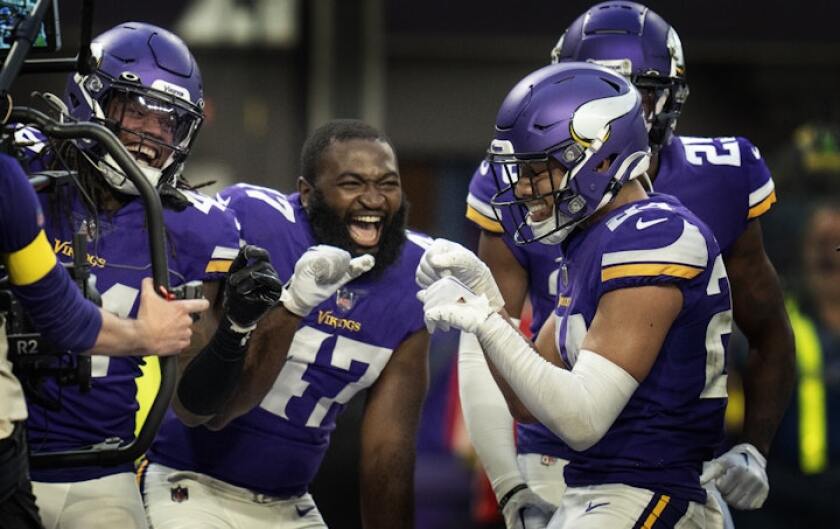 The busy Etammane has continued to braid hair, and she works two nursing jobs in the Washington area. She is thrilled to see how far her son has come.
"My son is a hard-working person just like his mother, and I am so grateful for what football brought in his life," she said. "I am thankful for the Lord who made it possible for us to come (to the) USA and work hard, focus on our goals and follow our dreams. I give thanks to all the people who helped us through our journey."
Kwenkeu has played in five of the Vikings' past six games. After being elevated for a second straight game Dec. 4 against the Jets, he wasn't called up to play at Detroit on Dec. 11.
But then on Dec. 14, Kwenkeu got a message to go to the office of Vikings director of player personnel Ryan Monnens. He said he was "kind of nervous," not knowing why he was being summoned. But it turned out to be good news as Monnens informed Kwenkeu he would be signed to the 53-man roster.
"It was pretty amazing," Kwenkeu said. "I appreciated it. But I know I've got to continue to keep working."
O'Connell said there's "so much to like about William" and he admires the way he is "flying around the field" on special teams. Daniels said he already has become one of the leaders on special teams.
"He's really the guy that's talking in the huddle, and guys can just see the passion he has for the game, the love that he has for the game," Daniels said. "It just spews out to the entire unit. … It's just a really good energy that he brings to the football team, but he's (also) got an unbelievable combo of speed and power."
Kwenkeu said he's happy now to help the Vikings in any way possible. He eventually wants to become a linebacker who gets regular snaps from scrimmage, but he knows he must work his way up.
Kwenkeu has not been back to Cameroon since leaving more than a decade ago. But he hopes to return there in the near future and represent the Vikings.
"I want to go back and give back to the community and do something like bring awareness to football," he said. "It would be great to help a lot of people."
______________________________________________________
This story was written by one of our partner news agencies. Forum Communications Company uses content from agencies such as Reuters, Kaiser Health News, Tribune News Service and others to provide a wider range of news to our readers. Learn more about the news services FCC uses here.