State cross country: Luverne boys 2nd, MCC/F girls 4th; Walu, Wolday run well for WHS
Many southwest Minnesota boy and girl runners performed admirably Saturday in the state cross country meet
We are part of The Trust Project.
NORTHFIELD -- Southwest Minnesota fared very well Saturday in the 2022 state cross country meet at St. Olaf College in Northfield.
On an otherwise pleasant day that featured a light mist, the Luverne Cardinals boys team placed second in Class A, coming within three points of first-place Heritage Christian. Murray County Central/Fulda senior Amanda Overgaauw narrowly missed repeating her 2021 individual championship, but she and her twin sister Ashley finished 2-3 overall to lead their outstanding MCC/F team to a fourth-place finish. Worthington Trojan boys Mikele Walu and Fanuel Wolday placed an impressive 12th and 16th in the Class AA field.
For the senior Walu, Saturday marked the fifth state high school cross country meet of his career, and he put together his best time in a 16:10.5 clocking over the 5,000-meter course. Wolday, a sophomore, ran it in 16:18.9.
"All-out guts today," said WHS head coach Cory Smidt. "I'm so proud. They flew. It was awesome to watch. They put it all out on the course, that's for sure."
The Luverne boys got a fifth-place performance from sophomore Owen Janiszeski in 16:09.1. Teammate Ryan Fick placed 15th in 16:37.9. Owen's older brother Camden, a senior, finished in 16:42.6 for 25th place. Cardinals Leif Ingebretson (77th, 17:27.7) and Sage Viessman (80, 17:29.7) were the fourth and fifth LHS runners to enter the chute.
Heritage Christian placed first in the team standings with 99 points. Luverne had 102. Perham was third with 133. A total of 16 teams competed.
Other area runners who finished strong were Ryan Pierson of Butterfield-Odin (12, 16:31.9), Evan Baumgardner of MCC/F (27, 16:45.5), Tim Salentiny of Heron Lake-Okabena (36, 16:59.3), and Kody Wassman of Mountain Lake Area (48, 17:09.5).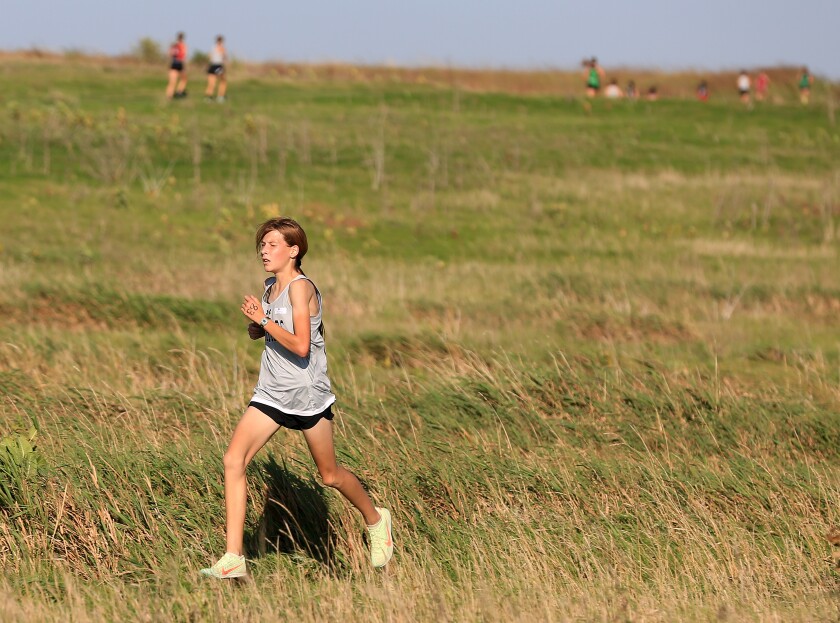 In the Class A girls team standings, Perham won with 56 points, followed in spots 2-4 by St. Cloud Cathedral with 78, Staples-Motley with 107 and MCC/F with 149.
Jade Rypkema, a senior from Nevis, was the overall champion in a time of 17:43.5. That was less than six seconds faster than Amanda Overgaauw who was clocked in 17:49.0. Ashley Overgaauw's third-place time was 18:52.1. Cotter's Sonja Semling was fourth in 18:53.5 and Jenna DeBates of Luverne was fifth in 18:54.4.
All season long, Murray County Central/Fulda produced excellent team depth, making the squad capable of winning any meet entered. On Saturday, junior Brylei Schreier did her part by finishing 57th, in 20:4.8. Teammates Sophia Nelson (97, 21.14.8) and Megan Bakke (109, 21:44.8) came in behind.
Other fine performances by area runners saw Windom Area's Kaylee Walklin finish 10th in 19:04.1, and Luverne's Ella Schmuck finished 47th in 20:17.8.
Emmett Gerres of Belle Plaine won the boys Class AA individual title in 15:13.7. Cameron Stocke of Rock Ridge was second in 15:24.0.
As a team, Mankato East prevailed with 111 points, followed by Rock Ridge with 113, Big Lake with 136, Delano with 154 and Orono with 157.
The Class AA girls championship went to St. Paul Highland Park with 79 points, followed 2-5 by Alexandria 105, Marshall 125, Becker 157 and Willmar 162.
Luna Scorzelli of St. Paul Highland placed first individually with 17:45.1. Isabelle Schmitz of Hutchinson was second (18:18.2), Kendra Krueger of Jordan was third (18:28.6) and Macy Hanson of Fairmont was fourth (18:36.5).