The Drill: Adrian's Winselman aiming high in wrestling
Adrian/Ellsworth junior Jaren Winselman is a state tournament-level wrestler hoping to get back this year to the big event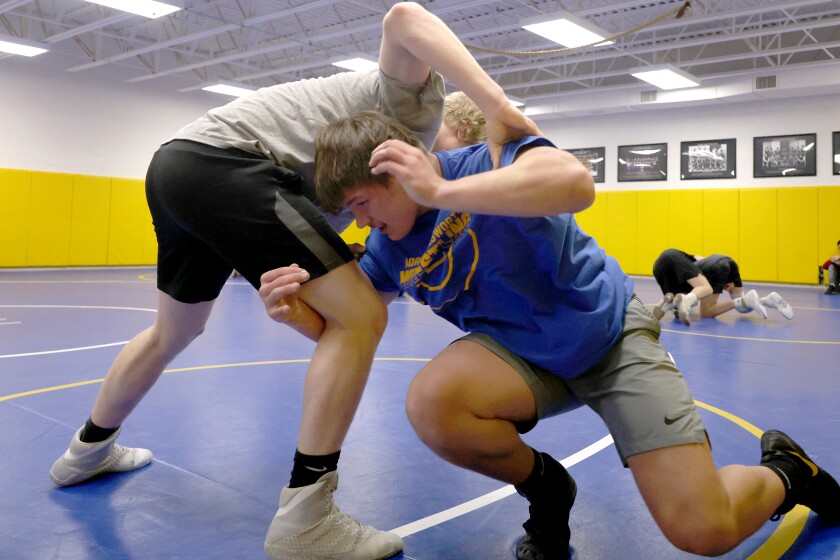 ADRIAN -- Jaren Winselman said one of the best things he's ever heard about wrestling came from his own Adrian/Ellsworth high school coach Gregg Nelson, who told him, "Once you wrestle, everything in life will be easier."
We're not sure if that's applicable in all situations. It's hard to prove that being a wrestler will make it easier to ace a chemistry test, and it may not always get you to work on time in the morning after a terrible Minnesota blizzard.
But you get the idea. The dedication and hard work required to succeed in wrestling separates the men from the boys, so to speak, and if you can grin at the sneering, muscle-bound guy standing in front of you, who's about to attempt to corkscrew you into the mat, you can take on just about anything else without fear.
In theory, at least.
Winselman, a junior at Adrian High School, is enjoying an outstanding wrestling season at 220 pounds for the Dragons. He had a good freshman year, and as a sophomore he qualified for the Minnesota state tournament. He has spent part of this 2022-23 season state-ranked, and is well on his way to repeating at state.
Nelson is a fan. He describes the block-bodied Winselman as a dedicated weight-lifter who came into his own physically between his freshman and sophomore years. He was a "butterball" in the seventh grade, Nelson said, but he really put on some muscle as a sophomore.
"Then it kind of blossomed," Nelson explained.
Physical and aggressive, Winselman knows how to use his strength and power to win matches and, according to Nelson, "makes stuff happen." The junior strongman likes to work at the sport and "does whatever we ask of him," said Nelson.
But if you think Winselman goes only so far as where his strength takes him, you'd be wrong. Winselman uses technique. "He's got enough technique, with his strength now, to be a state place-winner," Nelson stressed.
Curry is the starting point guard on a talented W-WG boys basketball team, and is committed to play football at SMSU next year.
Murray County Central's Bryce Hoekman doesn't like tater tots, but he likes what his Rebels are up to on the basketball court
Worthington High School wrestler Mason Schutz has learned that by correcting his breathing issues, he's a much better competitor
"I think I win most of my matches from being good on my feet," Winselman said. "I just try to be more powerful than the other guy and out-work him. I use my strength by just working the head, and if there's a leg there just get it before he can move it. I'm not the best at riding, but if I need to keep someone down, I will. Usually I go for the pin, but I get a couple of takedowns first."
Winselman, who also plays football for Adrian/Ellsworth, is this week's Globe Drill subject. You can see a video of him in action online at The Globe website at www.dglobe.com . Here's a sampling of the interview:
QUESTION: How'd you get into wrestling?
ANSWER: "I started wrestling, probably, at pre-school. Just my dad keeping on me to go to practices and stuff. And then, once you get better and start winning, it's a lot more fun. I think last summer going into my junior year is when I really took off, thinking I'm going to be good at wrestling. It just clicked. Once I got on the mat and feeling good, I started pinning people."
QUESTION: Have you got a favorite memory you'd like to share? Something that you'll always remember?
ANSWER: "The memory that pops into my head is, when we were younger, to go to state in NYWA, I had to pin a kid to win. And I did that. It felt pretty good."
QUESTION: Tell us something unusual about you.
ANSWER: "I think the strangest thing about me is, nobody really calls me by my first name. They call me 'Winzy' just for my last name being Winselman. They also call my dad Winzy, too, and my friends just kind of stuck with it and called me that. Most of the teachers call me Winzy. There's maybe two or three that actually call me Jaren."