The Drill: Trojans' Zeidi loves football, but keeps it in perspective
Worthington High School's Nasim Zeidi is a hard-hitting linebacker, but he knows there's more to the game than wins and losses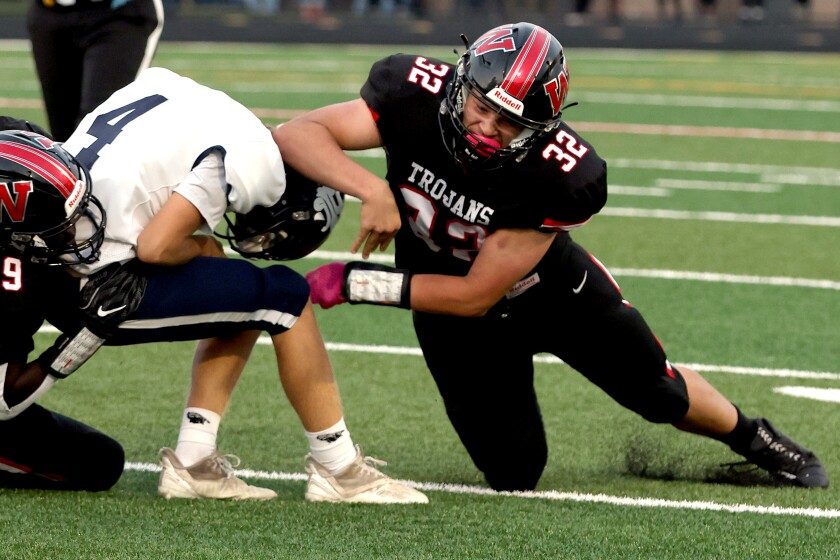 We are part of The Trust Project.
WORTHINGTON -- Armed with a sunny disposition off the football field and a teeth-rattling wallop on it, Worthington High School senior football player Nasim Zeidi just loves the game.
Dr. Jared Harwood of Sanford Worthington Orthopedics and Sports Medicine enjoys working individually with patients, but he's also a strong believer in total team care.
A three-sport athlete who also plays basketball and performs in track and field, Zeidi is last in the alphabet but near the top when it comes to smiles.
Yeah, he smiles a lot. He loves life, obviously. He especially loves football.
"I really love football, and when I bought into it, it was when I was a little kid watching the Trojans and watching the NFL play. And I just loved it so much. Playing with all my teammates, you know, the different teammates I've had in the past and all the coaches who have coached me. All the hard work you put in," Zeidi said recently.
That little kid has grown into a 5-11, 200-pound linebacker and fullback. He was voted an All-District Linebacker of the Year in 2021.
WHS head coach Geno Lais has said he would like all of his players to have at least a little bit of what Zeidi brings to his team. Enthusiasm, toughness and innate football intelligence comes to mind, but Lais also likes the fact that Zeidi is a more-than-willing participant in the team's community service initiatives.
Zeidi says community service projects are fun for several reasons, perhaps most obvious for the fact that it helps him bond with his teammates; and secondly and most importantly, it involves giving back to Worthington by helping people who need some help.
"Makes you feel happy that I helped someone out and made their day," he said.
After Zeidi graduates, he hopes to play college football at an as-yet undetermined location. He is also eyeing becoming a police officer. His ability to police large chunks of turf as a linebacker can't hurt his future prospects.
In the first NFL game on Thanksgiving in Minnesota, the Vikings defeated the New England Patriots 33-26 on Thursday night at U.S. Bank Stadium.
Worthington High School's Abagotte Opiew, Marenono Opiew, Nasim Zeidi and Kasey Gerhard have been named to the All-South Central District football team
The Minnesota Vikings seem to have luck (as well as talent) on their side this year. In the NFL, luck is important.
And as far as his offensive role as a fullback goes, he accepts reality as well as he can.
"I'm a fullback on offense. Geno puts me there to block, and I'll block. But I wish I could get the ball sometimes. But I know that's not gonna happen," he smiles.
By now you've figured out that Nasim Zeidi is this week's Globe Drill subject. You can see a video of Nasim online at www.dglobe.com . Here's a sample of the interview:
QUESTION: What must a person do to play linebacker well?
ANSWER: "The key to playing linebacker is reading the offensive line. If you're always looking in the backfield you can get caught up in all the traffic, and if you're looking at your keys then you'll be pretty well. If you want to be a good tackler you have to read the running backs or whoever the ball carrier is. You have to read the hips. There's also other things you have to read -- the plays."
QUESTION: The Trojans have struggled with wins and losses over the last few years. But there's more to sports than wins and losses, right?
ANSWER: "I like to win, but there's a lot of life lessons you learn in football, like teamwork, and having everyone's back. And that's helped me a lot. 'Cuz you have each other's back on the field and off the field, and in the classroom. That's really one of my goals I like to do, is help someone out in the classroom who needs help."
QUESTION: Who inspires you in sports?
ANSWER: "Someone who inspires me the most is probably my mom. She works four jobs. She's really a hard worker. And she's always taught me, if you want something, you go get it."