Trails offer a variety of hiking and other outdoors opportunities, author says
There are miles of trails out there just waiting to be explored, including an abundance in Minnesota and North Dakota.
EAST GRAND FORKS, Minn. — Ask Tom Watson to describe a good hiking trail, and he'll say it depends on the person using the trail.
There's no right or wrong answer.
"The old saying is, 'Another person's ceiling is another person's floor,'" said Watson, of Appleton, Minn., a longtime freelance outdoors writer and author of several books on trails, camping and paddling. "There's a trail out there for pretty much everybody and for young and old alike."
Just in time for National Trails Day, which is Saturday, June 2, Watson has released the fourth edition of "60 Hikes Within 60 Miles: Minneapolis and St. Paul." Dubbed by publisher Menasha Ridge Press as "the decisive guide to day hikes around the Twin Cities," the guidebook highlights trails within the seven-county Twin Cities metro area with maps, photos, trailhead coordinates and narratives about each of the featured routes.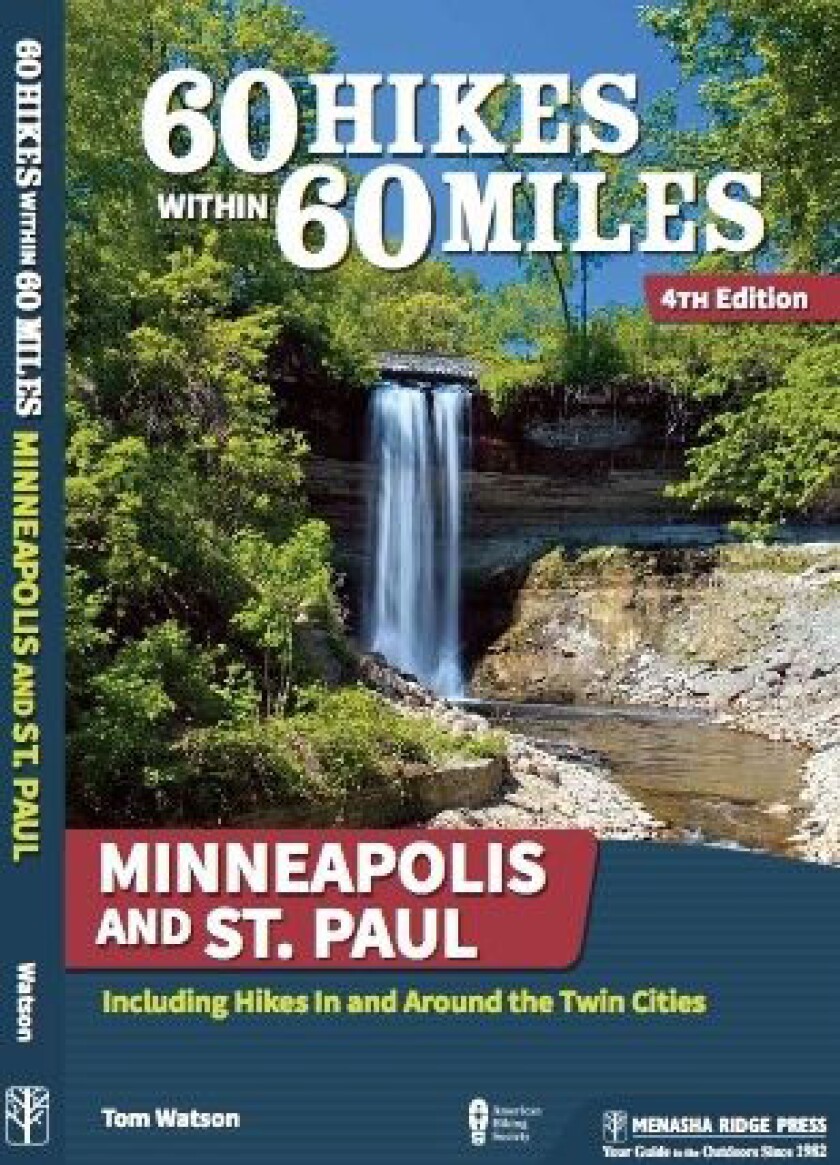 Watson's trail expertise extends far beyond the metro area. He also wrote the narrative for "Rails to Trails Minnesota," published in 2016, which highlights Minnesota trails developed using old railroad right-of-ways. Minnesota has 70 rail-to-trail networks, and more than 1,900 exist across the U.S., according to the book.
Bottom line, there are miles of trails out there just waiting to be explored, including an abundance in Minnesota and North Dakota.
"There's plenty of opportunities to get outdoors at whatever level you're comfortable at, so just get out there and give it a try," Watson said.
There's no such thing as a "best" trail, but guide books can help shed light on trail systems that appeal to people with specific interests, Watson says.
Learning about the authors writing the books can remove some of the guesswork, he adds.
"I'm a naturalist, I enjoy hiking the backcountry, I'm a birder and I'm a photographer, so the trails that offer that are what appeal to me," Watson said. "My best trail might be your worst trail.
"To me, a good trail is one that offers some diversity both in terrain, in the wildlife and the flora and the fauna. And if you have a particular interest, like birding or photography, you want to have trails that might give you the most opportunity to do that."
Anecdotally, Watson says hiking as an outdoors activity seems to be gaining momentum as more people realize the benefits of walking.
"For some people, a hike means throwing on the boots and getting the walking stick and a day pack and trudging down 10 miles of backcountry," Watson said. "Well, for somebody else, a hike might just be walking around a lake — a short cruise like that — or walking through a park."
The abundance of different types of trails makes hiking even more attractive.
"I think the whole idea of getting out is growing, and I think the fact a hike can be a passive or safe way to enjoy the outdoors" resonates with people, Watson said.
Still, there are some "do's" and "don'ts" to consider, he says, especially for newbies.
"I think one thing is you want to be dressed for the occasion, obviously dressed for any environment you're going through," Watson said. "Even if you're on a paved hiking trail, you've got that to consider as far as your footwear and type of soles on your shoes and your boots.
"Your foot's your main vehicle, so you want to make sure you've got that equipment and gear (that's right) for you. If you're breaking in a hiking boot, you want to do it on a short trail and not a long one."
Regardless of the trail, enjoying the journey is what's important, Watson says. Take the time to soak in the surroundings and the opportunity to just be "out there."
"I don't think you should take a trail as a marathon," he said. "I think it should be a slow journey. Some places have benches where you can sit, and sometimes you just need a tree to lean up against. But bring some things along — a journal to make notes or a camera.
"Make the journey part of the event and enjoy yourself."
Watson's "60 Hikes Within 60 Miles: Minneapolis and St. Paul," along with another updated guidebook, "Best Tent Camping: Minnesota," are available at retail outlets such as REI and Midwest Mountaineering and online at amazon.com. The hiking book retails for $18.95 while "Best Tent Camping" costs $16.95.